TV Credits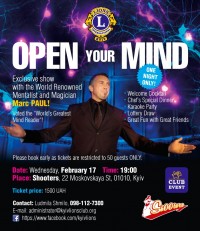 30 Years of Experience!   
Marc has been a successful performer for almost 30 years. During this time he has made regular appearances on British TV. They include…
Equinox - Secrets of the Psychics (Channel 4),
Paul McKenna's Paranormal World (ITV1)
Mysteries (BBC1) and Secrets (BBC1)
In 1999 he got the opportunity to create and perform in his own 16 episode series for cable TV called "Mind Games". This show was seen by the judging panel for the World Magic Awards in Las Vegas and as a result Marc won the title of "Best Mind-reader".
On Christmas Eve 2002 he appeared on the BBC's Parkinson show and amazed Michael and his guests Tom Jones, Martine McCutcheon and Alistair McGowan.
More recently you may have seen him heading up the mentalism show as part of the BBC's History of Magic series and crossing swords with Ann Robinson on a special celebrity edition of "The Weakest Link"
In the latter part of 2011 Marc was chosen to be part of an X-Men live event that launched the X-Men First Class movie. He appeared on radio, TV and various on-line media and was dubbed "The real-life Professor X".
Also in 2011 he filmed a series of interviews for "TV's 50 Greatest Magic Tricks". The programme features one of Marc's own original routines.
In early 2015 Marc taught soap star Nina Wadia how to read minds on the ITV1 hit show "Get Your Act Together".
Marc's live shows always feature mind-blowing performances of mental agility, influence and direct mind-reading all delivered with outstanding showmanship. His skills have made him one of the busiest mentalists in the world.